Vivaloe -
1 Review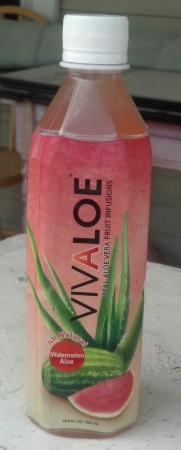 Viva Aloe! That is a statement I can get behind. I don't know how a plant that tastes so much like poison when found in nature can be transformed into such a tantalizing beverage, but some things you are just not meant to know. Other things that I didn't need to know include that there are more chickens on the planet than humans (the great poultry revolt will soon be upon us) and that the guy from Drew Carey did the voice of Batman in one of the cartoons (way to talk about taking you out of the awesomeness that is Batman).

This may be the first aloe drink that I have tasted that tasted fresh and not like it came from some mix. The bottle boasts, "no gelatin, no powder, no artificial color or flavors," so it looks like I was somewhat correct. It's also make from real fruit juice, which is a nice change from the fake flavors these drinks normally have. This also has mammoth size aloe chunks in it, amongst the smaller ones. It's mostly smaller chunks that are the size they are in most aloe drinks, but every once in awhile you get a huge hunking one and it's wonderful.

On top of all of that this is the only watermelon flavored beverage…€¦actually any watermelon product that I have had that doesn't taste like a Jolly Rancher candy. This actually tastes like the fruit. It's subtle, but it's there and it doesn't taste overly watered down like I imagine straight watermelon juice would. I think this is a miracle of nature.

I also see that this company makes a honeydew variety and I must now hunt that down before I can die happy.

Rating

🥛

🥛

🥛

🥛

🥛
Country
Sweetener
Author

Jason Draper on 8/21/13, 11:42 PM
Share